Rome, KONST! SVEZIA EXTRA ↔ ORDINARIA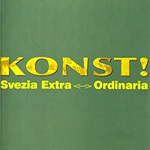 ARTE CONTEMPORANEA DALLA SVEZIA
Exhibitions curated by Lorella Scacco and Jan Ǻman
Opening: 30 October  2003 h. 6 p.m.
Period: 31 October – 23 November 2003
KONST! is the first exhibition of Swedish contemporary art in Italy.
KONST! presents the works of ten Swedish artists, both known and emerging, working with various media: from painting to video, installations and sculpture.
The participating artists are:
Mamma Andersson, Bigert & Bergström, Linn Fernström, FRONT, Peter Geschwind, Jan Håfström, Henrik Håkansson, Albin Karlsson, Gunilla Klingberg, Fredrik Wretman.
From the works of Jan Håfström, one of the most significant artistic personalities of Sweden, who has already participated in Italy at three editions of the Venice Biennale, before moving to the new generation already recognized internationally, with the names of Karin Mamma Andersson, Bigert & Bergström, Peter Geschwind, Henrik Håkansson, Gunilla Klingberg and Fredrick Wretman up to the emerging Fernström Linn, the FRONT group and Albin Karlsson, one will know aspects and most interesting developments of contemporary art in Sweden.
Each artist will exhibit own works in a solo exhibition in one gallery in Rome, in order to offer to the visitor a comprehensive view of every single artistic research. The exhibits also show an open dialogue between visual art and design, which is a relation always lively expressive in the development of this Scandinavian country.
KONST! is an event which with its artists, selected by curators Lorella Scacco and Jan Åman, will take place in seven areas, both public and private, of the capital city, along a path in the centre, as reported in the following format:
De Crescenzo & Viesti ® Fredrik Wretman
Ugo Ferranti ® Jan Håfström
CHANGE + PARTNER CONTEMPORARY ART® Bigert & Bergström
Maniero ASSOCIAZIONE CULTURALE ® Linn Fernström
Galleria Fontanella Borghese ® Mamma Andersson
Pio Monti ® Gunilla Klingberg – Peter Geschwind – FRONT – Albin Karlsson
Fondazione Adriano Olivetti ® Henrik Håkansson
"Daily life is one of the constant themes of contemporary art in Sweden. Gunilla Klingberg's work is exemplary in this direction. Her installations are made by everyday objects, bought at the supermarket or department store Ikea, which the artist elaborates creating new structures, as Transtube System (2002), composed by a series of lamps made of rice paper, whose large size can invade the entire space of one room. Artist likes then to make new ornament  motifs with the computer through the revision of the logos of hypermarkets, as shown in the video Spar Loop (2000-2002). Even Peter Geschwind, who works often in duo with Klingberg, is interested in everyday life. In his video, Sound Cut (2002), he assembles images and sounds of domestic objects, such as an appliance function, putting them digitally in relation to simple and fast rhythmic motif of the Dead Kennedy's song "Too Drunk to Fuck" (Lorella Scacco).
The review of exhibitions will be documented by an illustrated and bilingual catalogue, with essays by the two curators.
LOCATIONS:
CURATORS
Lorella Scacco, journalist and independent curator, art historian and philosopher.
Jan Åman, art critic and director of Färgfabriken, Centre for Contemporary Art and Architecture in Stockholm.
INFORMATION:
Exhibitive period: 31 October – 23 November 2003
Free entrance
Press Office:
Maria Bonmassar: tel. 06-4825370 / 335-490311 E.mail:  maria.bonmassar@tiscali.it