Milan, EffeArte Gallery, Marianne Grønnow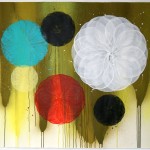 Marianne Grønnow
curated by Lorella Scacco
Milan, EffeArte Gallery
21st September – 10th November 2012
Opening: 20th September, h 18 | EffeArte, via Ausonio 1/A,  Milan
Effearte is proud to present the first solo exhibit in Italy by the Danish artist Marianne Grønnow titled Passage.
The artist renews our concept of ornamental painting. The exhibition shows a recent series of works in which abstract floral motifs emerge through geometries and lines, carves and reliefs.
Flowers unfold in the paintings, lithographs, and paperworks. A flower speaks of beauty, desire, death and transience. The title of the exhibition, Passage, reminds us the impermanence of beauty and perception and also the different techniques used by the artist to express the concept of Beauty in all of her research.
Marianne Grønnow does not represent real flowers and their true colours, but she seeks a modern spiritual idealism, which is neither romantic nor systemic, but intensely present and poetic.
Choosing a flower as main motif of her works is also a declaration of feminism by the artist. She renews and updates the flower's symbol, which was the icon of freedom for the first female painters compelled and conditioned to choose this theme.
The exhibit is supported by the Danish arts Council and with the patronage of the Danish Embassy.