Milan, EffeArte Gallery, Elina Brotherus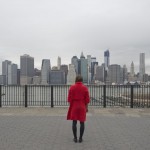 Elina Brotherus
curated by Lorella Scacco
Milan, EffeArte Gallery
22nd March 2013– 12th May 2013
Opening: 21st March, h 18 | EffeArte, via Ausonio 1/A,  Milan
Effearte is proud to present Spectator, the first solo show by Elina Brotherus in
Milan which includes five new works.
The exhibition will host a series of new photographs, made by the artist a few
months ago in New York, and a selection of works from her recent monograph
Artist and her Model (Le Caillou Bleu, Brussels 2012).
In these works the internationally recognized photographer focuses on the
artist's gaze on his/her model which, as she explains, "it is neither masculine
nor feminine gaze but something neutral observing, scrutinizing, sometimes
surprised or admiring".
Elina Brotherus investigates through the camera the human figure and its place
into the environment, looking for suitable light and landscape.
She affirms that she "looks for what we too often lack in the everyday life: calm,
wide spaces, surprise, veritable solitude and in compensation a shared
experience".
The spectator represented from behind is often present, pointing out to the
motif of the reciprocity of vision.
The exhibition is curated by Lorella Scacco and it participates in the seventh
edition of Milan Photofestival promoted by AIF – Associazione Italiana Foto &
Digital Imaging in collaboration with Camera di Commercio and Unione
Confcommercio Milano.
The show is with the patronage of the Finnish Embassy.