Milan, EffeArte Gallery, Tina Maria Nielsen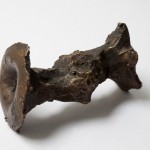 Tina Maria Nielsen
curated by Lorella Scacco
Milan, EffeArte Gallery
17th May 2013– 13th September 2013
Opening: 16st May, h 18 | EffeArte, via Ausonio 1/A,  Milan
Effearte is proud to present works by Danish artist Tina Maria Nielsen for the first time in Italy in a solo exhibition entitled Looking for somewhere.
The artist's favourite medium is sculpture, in which she combines traditional techniques with a site-specific installation, allowing visitors a more reflective and essential view of her work.
This essentialness is also reflected in the materials she likes working with – bronze, iron, concrete, wax and rubber – which makes her work extremely minimalistic and tactile at the same time.
The title of the exhibition, Looking for somewhere, expresses the desire for new places and destinations, evoked by the various works on display, including Inner room Outer space, which features a two-dimensional plan of an apartment with three dimensional rooms, indicating the dream of having spaces, intended not only as physical places, outside everyday life.
Living Color is an iron installation created specifically for the exhibition that rises to about 5 metres on one of the gallery walls, mimicking the growth of a vegetable element.
The artist also presents her new bas-reliefs in wax, created using ordinary paper and photographic paper.
The exhibition is curated by Lorella Scacco and with patronage by the Danish Embassy.