LABORATORIO ETERNO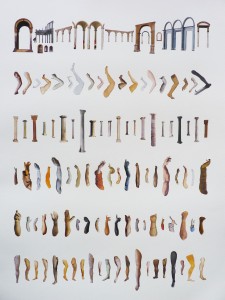 Introduction
Laboratorio Eterno
Contemporary artists in dialogue with the collection of the Hendrik Christian Andersen Museum
Museum H. C. Andersen
Rome, Italy
25th October 2015– 28th January 2016
Museum Andersen in Rome host the exhibition entitled "Laboratorio Eterno" (Eternal Laboratory), which presents five Scandinavian women artists: Marianne Grønnow, Siri Kollandsrud, Jane Maria Petersen, Anita Viola Nielsen, and Elisabeth Westerlund. The title of this exhibition, curated by Lorella Scacco, embodies various concepts: "Eternity", borrowed from the city of Rome and pursued in each individual work of art; "Studio", which is one of the intended uses of Villa Hélène as well as the place where each artist carries out endless experimentations; finally, "Laboratory", which is at the heart of Hendrik Andersen's "World City" project (1913), a continuous workshop for visual arts, science, philosophy, and architecture that produced the numerous drawings, models, and sculptures held in the museum. The artists showcased in "Laboratorio eterno" end up relating to the museum's collection, to the Andersen's family history and, at the same time, to the monumentality of Rome.
Jane Maria Petersen creates a metaphorical dialogue with concepts of centre and communication, juxtaposing multiple aspects and time frames and denouncing the importance of communication in all periods of times, as in her ceramic sculptures of glazed stoneware.
By assembling human limbs and upper and lower parts of the body, taken from various paintings and sculptures, Elisabeth Westerlund composes a grid of architectural columns with the purpose of merging our ideal figure of the human body with that of the city. Hendrik's idealized vision of architectural proportion is supplanted by Westerlund's humanized perspective.
Marianne Grønnow created an urban landscape in the large hall on the first floor of the museum. By featuring geometric elements and using dark colours instead of bright ones, Grønnow seems to challenge Hendrik by emphasizing the "dark" and dangerous aspects of visionary ideas and architecture. The Danish artist transfers the idea of Utopia into one of Dystopia; she stages an imaginary but almost undesirable world, inviting a critical look upon the world´s future.
The museum's collection led Siri Kollandsrud to focus on the failure of utopian ideas through some works realised using different techniques. In "Step fall or fly", a series of watercolours, carbon and pastels on paper mounted on canvas, the artist repeatedly and almost obsessively draws a motif inspired by the lower part of the Andersen's bronze sculpture situated on the museum's ground floor, "Vita eterna".
Anita Viola Nielsen, who visited Rome several times as a scholarship recipient at the Danish Institute, takes a more intimate, emotional, and nostalgic approach. In her dialogue with the Andersen family, she chooses Andreas as her artistic and metaphysical reference, with whom she shares an interest for the same psychological themes as well as the choice of painting as a medium.
It is interesting to notice that the history of the Andersen family as well as the whole museum collection, which date back to the beginning of the last century, evoke contemporary issues such as utopia, urban planning, identity, emigration, physicality and spirituality, ideals, family relationships, and love. This aspect required the five Nordic artists to use their analytical and artistic skills on a number of different issues. Hendrik Andersen's ideal project has become key for their criticism regarding both existing and future situations.  When relating to it, all artists tend to bring Hendrik's utopian vision down to a more ordinary and natural level, in accordance with Scandinavian culture. In contrast with Andersen's artistic ambitions, the Nordic artists suggest a vision of the arts, urban planning, and history under a sociological perspective, taking into account individual as well as collective freedom, personal as well as community needs.
The exhibition is presented by Polo Museale del Lazio and its director, Edith Gabrielli, in the Museum H.C. Andersen in Rome, which is directed by .
Supported by Nordisk Kulturfond, Knud Højgaards Fond, Iaspis, Danish Institute in Rome, Embassy of Denmark, Royal Embassy of Norway, Embassy of Sweden, Skandinavisk Forenings Kunstnerhus.
Press Rewiew
Pictures


More resources