NORTHWAVE | A Survey of Video Art in Nordic Countries
Introduction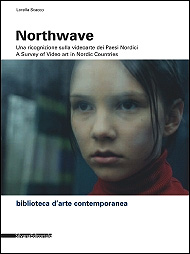 The book offers a broad survey of developments in Nordic Countries video art since the 60′s until nowadays and the poetics developed by artists. Particular attention has given to artists who have worked since the 90s until the most recent generation. The book is divided into two parts: an essay that investigates the early video experiments of the 60s and 80s in the five Nordic Countries (Denmark, Finland, Iceland, Norway, Sweden) and then goes to the "Nordic Miracle" in the 90s and up to nowadays, describing the issues, trends and work of the artists. The second part consists of a series of biographical profiles illustrating the works and ideas of the individual artists that makes this book a survey not only of video art but also of recent artistic developments in the Nordic countries in the broader sense.
Among the artists included in the book recall Eija-Liisa Ahtila, Lauri Astala, Johanna Billing, Elina Brotherus, Jonas Dahlberg, Maria Friberg, Marit Følstad, Siri Hermansen, Laura Horelli, Henrik Håkansson, Jesper Just, Eva Koch, Ragnar Kjartansson, Annika Larsson, Petra Lindholm, Anu Pennanen, Rúrí, Lars Siltberg, Mika Taanila, Salla Tykkä, Gitte Villesen, Magnus Wallin and Knut Åsdam.
Enclosed to the book a DVD showcases some video excerpts of the artists.
The book is available to buy on the following link:
http://www.amazon.com/s/ref=nb_sb_noss?url=search-alias%3Dstripbooks&field-keywords=northwave&x=20&y=16

Launches book
Featuring
Mikkel Bogh, Rector of the Schools of Visual Arts, Royal Danish Academy of Fine Arts in Copenhagen
Anette Østerby, Director of The Visual Arts Centre, The Danish Arts Agency
Emilio Canu, Cultural Attaché of the Italian Culture Institute in Copenhagen
Eva Koch, Visual artist
Seminar at the Fritt Ord Foundation, Oslo
07th 09 2010 | 5:00 p.m
Title: NORTHWAVE – documentary in Norwegian video art
Featuring
Lorella Scacco, art historian, journalist and curator, Rome
Bodil Furu, video artist
Susanne Ø. Sæther, chair

Featuring
Stella Bottai, Art critic and historian of contemporary art
Chiara Guidi, Art critic and historian of contemporary art
Featuring
Maria Vittoria Marini Clarelli, Supervisor of the National Gallery of Modern and Contemporary Art, Rome
Dario Evola, Professor of Aesthetics at the Academy of Fine Arts, Rome and Professor of History of Contemporary Art at the University La Sapienza, Rome
Eva Koch, Visual artist, guest professor at Bergen Art Academy in Norway and Deputy chairwoman in The Danish Arts Council
Featuring
Pino Musolino, Cultural Responsible of the Venice, Murano and Burano Townhall
Dag Aak Sveinar, Art Director of Punkt Ø, Gallery F15 and Momentum, Moss, Norway

Pictures
Artists Screen Video
Zoom: click on thumbnails